TheSportsInteraction.com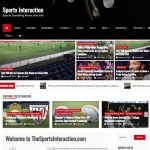 Descripción larga del negocio:
Sports Interaction is the leading source of sports gambling news and information. They made the online portal for bookies and players to share their knowledge and wisdom on sports wagering, bookie software, and the sports world in general.
TheSportsInteraction.com cover all aspects of sports betting, including picks, tutorials, and sports news. They choose their sources to ensure they publish only facts and nothing else. Their goal is to ensure they provide the freshest news that's true.